This section is intended especially for people who are relatively new to Bluegrass music. Say, perhaps you have been recently dragged to a Bluegrass festival by a close friend or family member and are intrigued (and maybe a bit perplexed) by all of the notes flying by. Or, possibly, you are a punk rocker and just last week you were pulled into a Bluegrass jam. Or, perhaps you've always liked Jerry G's banjo picking, have gotten attached to the Old and in the Way album and have just decided to more fully explore Bluegrass. If any of the above resonates and you are new to Bluegrass music, this section is for you. If on the other hand, you know all the lyrics to every song that Bill Monroe and Flatt and Scruggs have recorded, you are probably better off skipping this section.
There are several excellent books on the history of Bluegrass, and if you would like to become an esteemed Bluegrass historian, I'd suggest you pick up one of the books listed in the bibliography. Our intent here is to provide just enough background to indoctrinate a bluegrass newbie into our Bluegrass community.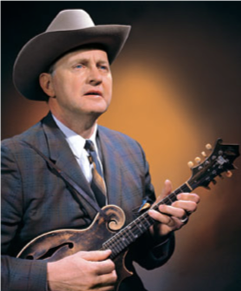 Bill Monroe is someone who you ought to become familiar with if you are at all interested in Bluegrass. Mr. Monroe was born on September 13, 1911 in Rosine, KY and arguably "invented" Bluegrass music just before Christmas in 1945 when he asked Earl Scruggs[1] to "join up" backstage at the Grand Old Opry. Bill named his band "The Bluegrass Boys" because he came from Kentucky (which is known as the Bluegrass State) and the music naturally became known over time as Bluegrass music.
The Father of Bluegrass
Bill's musical career spanned 69 years and he became known as the Father of Bluegrass Music primarily for three reasons:
Bill brought a unique sound to the world – produced by a combination of fiddle, guitar, bass, Scruggs-style banjo and mandolin. These five instruments blended together to fashion a new music characterized by a driving backbeat, high pitched lead singing and two and three (or four) part vocal harmonies.
Mr. Monroe wrote many of the Bluegrass standards, establishing precedence in both melody and thematic content for the music.
Bill's band, The Bluegrass Boys, was a veritable incubator for churning out talented pickers who in many cases went on to start their own bands. Examples include Lester Flatt and Earl Scruggs, Jimmy Martin and many, many other band leaders and sidemen[2]. Once trained in Bill's band, these folks went on to continue the music in a variety of bands – which were, in turn, widely copied by others.
The Classic Bluegrass Boys
A trivia question that every fan of Bluegrass would be expected to be able to answer is, "What was the configuration of the original Monroe band in 1946?" Here is the answer:
Bill Monroe, Mandolin – aka Big Mon, Bandleader, High lead and tenor singer, Father of Bluegrass
Lester Flatt, Guitar – Deep, velvet voice, sings with a distinct southern drawl; Lester left Bill's band along with Earl Scruggs in early 1948 to form Flatt and Scruggs and the Foggy Mountain Boys
Earl Scruggs, Banjo – Invented[3] the syncopated style of three-finger banjo picking that characterizes almost all Bluegrass music. Left with Lester in '48 to form Flatt and Scruggs.
Chubby Wise, Fiddle – A very smooth fiddler from Florida that established much of the precedence in longbow, bluesy bluegrass fiddling.
Howard Watts (aka Cedric Rainwater), Bass – Back in the day, the bassist was expected to be the comedian of the group and Cedric was no exception.
There are so many talented pickers that performed with Bill Monroe over the years that it is impractical to list them all. Here are a few of the more influential ones that you are likely to encounter elsewhere in this book:
Kenny Baker – Bill's longtime fiddler, Kenny composed or co-wrote many of the melodies that Bill recorded over the years
Jimmy Martin – Guitarist and lead singer, went on to form his own band[4] "The Sunny Mountain Boys". Jimmy wrote and recorded many of the bluegrass standards played frequently today. We will hear much more about this flamboyant bandleader in section II of this book.
Bill (Brad) Keith – A highly innovative banjo player, Bill Keith was known as Brad in the band (his middle name) because Mr. Monroe said, "There can only be one "Bill" in the band." Mr. Keith invented a style of banjo playing called melodic picking which enabled the banjo to play fiddle tunes note-for-note (instead of just playing an outline of the melody with Scruggs rolls). We will have much more to describe about Bill Keith and melodic banjo in section II of the book.
Don Reno – Offered a job with Monroe in 1943, Don Reno was one of the early innovators of the 5-string banjo. Reno decided to join the service instead, returning to find Earl Scruggs getting most of the credit for "inventing" bluegrass style banjo. Like Scruggs, Reno built his banjo style by building on Snuffy Smith's pioneering banjo style and went on to become known for his pyrotechnics on both the banjo and flatpick guitar. He was made a Bluegrass Boy in 1948 right after Earl left the band. Reno-style banjo is practiced today and is characterized not only by Scruggs-like banjo licks but lots of single string work and breaks made up of shifting chord melodies.
The Stanleys
Carter and Ralph Stanley were a brother duet that came onto the music scene in 1946, about the same time as Bill Monroe started the Bluegrass Boys. They were arguably the first folks to copy the Monroe sound, although they did much to differentiate themselves from the Bluegrass Boys. Carter played guitar and, very briefly, was a Bluegrass Boy in 1951 (Ralph, who picks banjo, was never in Monroe's band but he did record with him). They are worthy of mention in this section since, as contemporaries of Monroe, they were so influential in early bluegrass with their soulful mountain-style singing and playing. They wrote hundreds of songs, many of which have become Bluegrass standards.
Although Carter passed away in 1966, Ralph has continued to play banjo and sing a high tenor and lead with his band "The Clinch Mountain Boys" until his passing at age 89 in 2016. Many talented future bandleaders were formerly Clinch Mountain Boys, including Ricky Skaggs and Keith Whitley.
Bluegrass' popularity increased dramatically in the 1950s, finding receptive audiences in the southeastern U.S. Rural radio stations brought the sounds of Bill Monroe, the Stanley Brothers, Jimmy Martin, Flatt and Scruggs and many others[5] into the homes of folks in Dixie and Appalachia. Subsequent geographical expansion of Bluegrass to the industrial cities of the Northeast occurred in the late '50s and '60s – the driving force for this were families from these regions migrating northward to find work. Cities such as Detroit, Baltimore and Cincinnati had a thriving bluegrass scene in the '50s and '60s, which served this diaspora of displaced bluegrass fans. The children and grandchildren of these migrants are continuing to maintain the Bluegrass tradition by performing and supporting Bluegrass music today in those areas.
By the late '50s, people were turning their attention to the new sounds of rock and roll and rock-a-billy after Adolph Rickenbacker's invention and Les Paul's subsequent refinement of the electric guitar. Elvis, who paradoxically had a huge hit with Bill Monroe's "Blue Moon of Kentucky," sucked many of these rural and newly urban listeners away from Bluegrass and record sales suffered.
In the meantime, in colleges and coffee houses throughout the nation, another musical movement was underway – Folk music. Values such as peace, love and free expression and bands such as Peter, Paul and Mary probably wouldn't have found much acceptance with our average rural Appalachian bluegrass listener at the time (to say the least). However, the coffee house folk music crowd turned out to be a very receptive audience for Bluegrass. All that was needed was a couple of key events to bring Bluegrass music to the attention of this primarily urban, educated audience of folkies.
From Carnegie Hall to Beverly Hills
One of these key events took place in New York City on December 8th, 1962. The seminal concert of Flatt and Scruggs at Carnegie Hall exposed Bluegrass music to lots of uninitiated urbanites and the ensuing release of the eponymous album on Columbia Records brought the live recording to thousands more people.
During the following year, Flatt and Scruggs appeared frequently in the popular TV series, "The Beverly Hillbillies." The theme song, picked by Earl and sung by Lester, went on to spend twenty weeks on Billboard country charts and was #1 for three weeks in early 1963. It also made the top 50 in the pop charts.
A few years later, in 1967, the film Bonnie and Clyde came out, featuring Earl Scruggs' Foggy Mountain Breakdown, which was used extensively in the film as background music.
Bill on the Big Stage at Newport
In 1963, Mr. Monroe enlisted a folklorist named Ralph Rinzler as his manager. One of the first things that Mr. Rinzler did was to get Bill and the Bluegrass Boys on the billing at the Newport Folk Festival. Sharing the stage with what was then up and coming acts such as Bob Dylan, Joan Baez and Ian and Sylvia got Mr. Monroe and Bluegrass music national exposure.
Fincastle: The first Bluegrass festival
Promoter Carlton Haney held the first multi-day Bluegrass festival at Fincastle, VA in September of 1965. This set a precedent that has blossomed into hundreds of Bluegrass festivals each year and arguably provides most of the opportunities for people to experience live Bluegrass music today.
The above events brought Bluegrass back to the national stage and resulted in the enlistment of an entirely new type of bluegrass listener: the educated, coffee-house attending, primarily urban white collar professional. This momentum continued right into the '70s, where a second generation of Bluegrass bandleaders was starting to make a huge impact on the music.
Many of the Bluegrass musicians who were hired as sidemen by first generation bandleaders in the 50's and 60's became bandleaders themselves during the '70s and '80s. Examples include:
Ricky Skaggs – Originally a Clinch Mountain Boy on Mandolin with Ralph Stanley, Ricky has gone on to form his own band "Kentucky Thunder." Ricky is one of the more highly successful bluegrass musicians and had a brief but very successful foray into country music as well.
J.D. Crowe – Inveterate banjo player and baritone singer, J.D. was a member of Jimmy Martin's Sunny Mountain Boys where he established precedence for many of Jimmy's ensuing banjoists. J.D.'s original band, after leaving the Sunny Mountain Boys, was called the Kentucky Mountain Boys. The name was changed to the New South in the early '70s in order to reflect the evolving, less traditional nature of the band.
Doyle Lawson – A highly innovative mandolin player, Doyle Lawson also got his start with Jimmy Martin. Doyle is worthy of note as his band "Quicksilver" is known for flawless vocal and instrumental arrangements and has been the source of many third-generation bandleaders and key sidemen.
Other important second-generation bluegrass pickers include the following:
Tony Rice – We will have much more to say about Tony in Section II but briefly, he is responsible for setting precedent for modern flatpicking style guitar. Tony was also considered one of the best vocalists in Bluegrass but unfortunately lost his singing voice in the 1990s.
Jerry Douglas – Jerry is considered one of the finest Dobro players in the world. Early on he collaborated with J.D. Crowe and set a high bar for playing Dobro in Bluegrass. He has gone on to a tremendously successful solo career as well as one of the supporting members of Alison Krauss' Union Station band.
Doc Watson was born in Deep Gap, NC and became blind during first grade as a result of an eye infection. Like Bill Monroe, Doc got his big break by playing the Newport Folk Festival in 1963. Known for his deep baritone voice and flawless flatpicking, Watson influenced thousands of guitarists, including yours truly with his widely copied guitar breaks. Doc passed away in 2012, but his legacy continues as strong as ever.
These musicians are primarily responsible for taking the traditional sounds of Monroe and first-generation bands and evolving it into the contemporary bluegrass sound that we hear today.
Several other important things happened during the '70s and '80s that had a tremendous impact on both the audience for Bluegrass as well as the music itself. We will discuss those next.
Circle Be Unbroken
In 1972, the Nitty Gritty Dirt Band brought together many of the top Bluegrass and Country Western musicians of the time in a recording session. Included were Jimmy Martin, Doc Watson, Merle Travis, Mother Maybelle, Roy Acuff, Earl Scruggs, Brother Oswald (Kirby), Norman Blake and Vassar Clements. Bill Monroe was asked and refused to participate in the recording. The result was a two-album set called "Will the Circle Be Unbroken" that introduced bluegrass music to thousands of Dirt Band fans.
Dead heads and Old and in the Way
Grateful Dead fans have always been receptive to bluegrass music. Jerry Garcia was a banjo and acoustic guitar player in Bluegrass and Old-Time bands before the Grateful Dead was formed. In 1973[6], Jerry played banjo on a Bluegrass recording with Peter Rowan (guitar), David Grisman (mandolin), Vassar Clements (fiddle) and John Kahn (bass) entitled "Old and in the Way." This was one of the first Bluegrass "Supergroups" and was responsible for bringing thousands and thousands of deadheads into bluegrass circles. The phenomenon continues today, as a significant portion of both modern-day bluegrass pickers and fans are proud to be called "Deadheads." They bring quite a bit of influence into the music – both by bringing material from the Grateful Dead into Bluegrass as well as impacting the arrangements (e.g. extended periods of somewhat unstructured improvisation during songs).
Rounder 0044 and the Red Slipper Lounge
Rounder 44? Is it some sort of secret Bluegrass code for something? Well, we'll get to that in a minute. First, let's discuss J.D. Crowe and the New South in the year 1974. This group performed in and around J.D.'s hometown of Lexington, KY and, comprised some of the best musicians ever to pick up bluegrass instruments. J.D. led the group, played banjo and sang baritone harmony. Ricky Skaggs was on mandolin and vocals, Tony Rice – guitar and vocals, Bobby Sloane played bass and Jerry Douglas played resonator guitar (or Dobro).
Legend has it that this band played almost every night of the week consecutively for something on the order of a year at the Red Slipper Lounge (a bar in the lobby of the local Holiday Inn). These musicians were at the very top of the Bluegrass talent pool and they got extraordinarily "tight" from the nightly gigs at the Red Slipper. This made the band something of a legend in Bluegrass circles. Furthermore, the band wasn't afraid to push the boundaries by including material and arrangements distinctly outside the domain of traditional Bluegrass. I have heard bootleg recordings made at the Red Slipper during this period, and they sound nothing short of magical.
This configuration of J.D. Crowe and the New South must be given some credit for the way that contemporary bluegrass sounds today, along with just a couple of other bands from this era. The only album released by this version of the band, and in my opinion, one of the most impactful in bluegrass history, is entitled simply "J.D. Crowe and the New South." However, bluegrass aficionados know it best by its catalog number, "Rounder 0044." Songs included on the recording range from the ultra-traditional "Old Home Place" and "Sally Goodin" to distinctly non-bluegrass titles from songwriters such as Gordon Lightfoot, Utah Phillips and Ian Tyson.
The Gents and the 'Scene
There are two bands worth mentioning in addition to J.D. Crowe and the New South that were especially important in establishing today's contemporary bluegrass sound. Both were viewed as innovative and revolutionary at the time, but their repertoire and arrangements have become a big part of contemporary bluegrass music as currently recorded and performed. The first band is the Country Gentlemen. The "classic" Country Gentlemen reached popularity back in the '60s when Charlie Waller recruited John Duffy (mandolin), Eddy Adcock (banjo) and Tom Gray (bass) into the band. A second classic generation of the Country Gentlemen occurred in the '70s and is perhaps better known – this configuration consisted of Charlie Waller (guitar), Doyle Lawson (mandolin), Bill Yates (bass) and Bill Emerson (banjo). Ricky Skaggs was also part of this lineup and played fiddle on their famous Vanguard recording. The Country Gentlemen were arguably one of the first bands to consistently take material outside of bluegrass and arrange it in a bluegrass configuration. Note that this differs from "Newgrass" and progressive Bluegrass (see below) because the resulting sound very much resembles contemporary Bluegrass in tonality and arrangement.
Similarly, the Seldom Scene, a band formed in 1971, also took material that was from distinctly different genres and arranged it for Bluegrass. They innovated in both material and arrangements and, along with the Country Gentlemen, were (and still are) known for their tremendously entertaining stage shows. The "classic" Seldom Scene from the early '70s consisted of Ben Eldridge (banjo), Mike Auldridge (Dobro), John Starling (guitar), John Duffy (mandolin) and Tom Gray (bass).
The Bluegrass Album Band
This group of top bluegrass musicians[7] was brought together in 1980 to record an album for Tony Rice. Volume one was so successful that the group ended up recording seven volumes in total. They covered just about every one of the most popular standards from Bill Monroe, Flatt and Scruggs, Jimmy Martin and others, and did so with such fine musicianship and recording quality that these recordings have become standards in their own right.
Newgrass
You probably won't find a more divisive or polarizing term in Bluegrass music than Newgrass and this can be somewhat confusing to a Bluegrass newbie. The more traditionally minded people in the bluegrass community have been using the term Newgrass somewhat pejoratively to refer to anything that is not traditional bluegrass. People actually performing the music that the trads are calling Newgrass probably wouldn't call it that but will admit to playing Newgrass if asked directly.
The term came into use in the early '70s and was derived from a band called the Newgrass revival (1971 – 1989). This band consisted of progressive players (at the time) such as Béla Fleck (banjo), Sam Bush (mandolin), John Cowan (guitar) and others. The Newgrass Revival was revolutionary back in the day and was one of the key bands responsible for "forking" the music into a progressive track that has since remained very distinct from traditional and contemporary bluegrass.
There is nothing like a good Coen Brothers movie to help your cause. In the year 2000, Bluegrass music received a huge lift from the Coen Brothers' film, "O Brother Where Art Thou?" This movie featured Bluegrass, Old Time and Gospel music prominently throughout and, combined with the ensuing touring ensemble, "Down from the Mountain," brought thousands of people into the Bluegrass fold. Artists such as Alison Krauss, Ralph Stanley, Emmy Lou Harris and Gillian Welch provided music in both the movie and the tour group.
It always helps to have a framework with which to put complex matters into perspective so they can be more fully comprehended. Bluegrass music is no different, and in this chapter, I will offer my framework for classifying our music. I want to emphasize that the classification scheme below is purely one person's view and I hope it especially helps newcomers to the music gain perspective.
As outlined in the previous chapter, Bluegrass started with Bill Monroe and his Bluegrass Boys and grew to include offshoot bands such as Flatt and Scruggs and Jimmy Martin and the Sunny Mountain Boys as well as bands copying the Monroe sound such as the Stanley Brothers. The term usually reserved for this kind of music is Traditional Bluegrass and it is alive and well in 2019. Dressing typically (but not always) in "hats and ties," these bands aim to strictly honor the Bluegrass tradition and perform material and arrangements very close to the way they were done in the past. Current ensembles performing Traditional Bluegrass include:
Ralph Stanley II and the Clinch Mountain Boys
The Crowe Brothers
The Spinney Brothers
The Earls of Leicester
Danny Paisley and the Southern Grass
Karl Schiflett and the Big Country Show
Big Country Bluegrass
The Johnson Mountain Boys (not currently performing but worthy of mention as one of the very best in the category)
In the previous chapter, we pointed out that J.D. Crowe, the Country Gentlemen and the Seldom Scene (and a few others) led the way forward by incorporating material from other genres and innovating on arrangements. This thread has continued from the '70s and today typically also includes songs written and arranged by band members or independent writers closely associated with the band. Current groups performing Contemporary Bluegrass include:
The Seldom Scene
Doyle Lawson and Quicksilver
Russell Moore and IIIrd Tyme Out
The Del McCoury Band
Rhonda Vincent and the Rage
Dailey and Vincent
The Gibson Brothers
Lou Reid and Carolina
Blue Highway
Volume Five
The Lonesome River Band
The Steep Canyon Rangers
The Grascals
Alan Bibey and Grasstowne
Sideline
Joe Mullins and the Radio Ramblers
Audie Blaylock and Redline
The Roys
Darrell Webb Band
Darin and Brooke Aldridge
Kenny and Amanda Smith
Hot Rize
The Grass Cats
Steve Gulley and New Pinnacle
The Band of Ruhks
Chris Jones and the Night Drivers
Flatt Lonesome
Mountain Faith
Dale Ann Bradley
Michael Cleveland and Flamekeeper
Ricky Skaggs and Kentucky Thunder
Progressive Bluegrass is a term I use for the music that grew out of the Newgrass Revival (and other bands) in the '70s. Not afraid to experiment in material or format, these bands are clearly on the "edge" today with highly innovative arrangements and extended improvisation. Some of these ensembles are also prone to bring in non-bluegrass instruments. Early examples of Progressive Bluegrass include the David Grisman Quintet and the Tony Rice Unit. Here are a few currently performing and/or recording acts that I would consider to be Progressive Bluegrass:
The Punch Brothers
Frank Solivan and Dirty Kitchen
Alison Brown Quartet
Béla Fleck (and the Flecktones)
The Infamous Stringdusters
Darol Anger and Mr. Sun
Mike Marshall
Väsen
Mountain Heart
Nickel Creek
Noam Pikelny
Ryan Cavanaugh
Sam Bush
Tony Trischka
"Alternative" is a very broad, catchall term that I use for bluegrass that is difficult to classify. Often these bands will come to bluegrass from another genre or have influences that are mostly non-bluegrass but use primarily bluegrass instrumentation. Many of these bands will feature drums and electric instruments. Other alternative bands might be closer to Old Time music, using (for example) clawhammer-style banjo.
Americana is a very broad category of music that is currently exploding. The Americana Music Association defines it as "contemporary music that incorporates elements of various American roots music styles, including country, roots-rock, folk, bluegrass, R&B and blues, resulting in a distinctive roots-oriented sound that lives in a world apart from the pure forms of the genres upon which it may draw. While acoustic instruments are often present and vital, Americana also often uses a full electric band."
Bands currently performing that I would place in either Alternative Bluegrass or Americana are:
Alison Krauss and Union Station
Della Mae
Front Country
Crooked Still
The Hillbenders
The Avett Brothers
Jakob Dylan
Carolina Chocolate Drops
Bonnie Raitt
Gillian Welch
John Fogerty
Robert Plant
The Steel Wheels
The Steel Drivers
Steve Earle
The Mammals
Inspired by bands like the Grateful Dead and Phish, a relatively new category of bluegrass-related music has appeared on the scene. These groups feature (primarily) plugged in acoustic instruments (e.g. with pickups) and extended "jams" in many of their songs. The music has become very popular in urban settings and is bringing many people into bluegrass. Here are a few example bands that are currently performing:
Trampled by Turtles
Yonder Mountain String Band
The Jeff Austin Band
Old Crow Medicine Show
Old-time music is the form of country music that pre-dated Bluegrass – and yet still is going strong. This definition makes the category quite broad, but it is the only one that I have found to be accurate. Old-time music is included here as you are likely to run into at least a couple of old-time musicians at Bluegrass festivals, and it is a blast to play or listen to.
Typically, old-time string bands consist of a fiddle (often played against the chest instead of under the chin), a clawhammer style banjo (although there are two finger and three finger old time banjo styles), a guitar, a mandolin and a bass. Also, fair game: autoharps, washboards, washtub basses, jugs, harmonicas, accordions, jaw harps, saws, dulcimers and various other instruments – pretty much anything that makes some sort of sound. String bands such as Gid Tanner and the Skillet Lickers were very popular in the '20s but also note that there are many other forms of "Old Timey" music.
Listed below are a few of the currently performing old-time acts. Notice that several of these bands also show up in the Alternative category.
The Tallboys
The Reeltime Travelers
Crooked Still
Uncle Earl
Brad Leftwich
The Mammals
Foghorn String Band
Old Crow Medicine Show
The Carolina Chocolate Drops
The Freight Hoppers
Navigation
Section I: Bluegrass Primer (you are here)
Section II: The Five Bluegrass Instruments + the Bluegrass Voice:
Section III: Skills Development
Section IV: The Bluegrass Band
Section V: Bluegrass as a Business
Section VI: Sound Reinforcement for Bluegrass Bands
---
[1] Earl Scruggs was the banjo player who is usually credited with originating the unique, bluegrass style of banjo picking. We will explore Earl and his technique more fully in Section II.
[2] Yes, they were almost entirely men. Bessie Lee Mauldin, who played bass for Monroe was the only exception that I am aware of.
[3] Earl was influenced strongly by Snuffy Smith, who also picked three-finger style. In addition, Don Reno was one of the early innovators on the banjo that deserves some of the credit. However I would argue that Earl brought it all together and established most of the archetypal licks that characterize Bluegrass banjo. We will get into this in much more detail in Section II of this book.
[4] No stranger to fashion, Jimmy, as bandleader of the Sunny Mountain Boys would typically wear white shoes, red pants, and a checkered hat.
[5] Other great first-generation players would include Jim and Jesse and the Virginia Boys, and the Osborne Brothers (Sonny and Bobby)
[6] The first recording was recorded in 1973 and released in 1975
[7] Tony Rice, guitar; Doyle Lawson, Mandolin; J.D. Crowe, Banjo; Bobby Hicks, Fiddle; Jerry Douglas, Dobro; Todd Philips, bass – later Vassar Clements, fiddle and Mark Schatz, bass